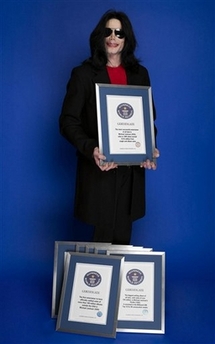 Look To The Stars
The World Of Celebrity Giving
Michael Jackson's Charity Work, Events and Causes

Charity biography
Michael Jackson wrote "We Are The World" with
Lionel Richie
in 1985 and performed it as part of an all-star single to raise money for Africa in 1985.
The Millennium-Issue of the "Guinness Book Of Records" names Michael as the "Pop Star who supports the most charity organizations", according to
JacksonAction.com
, which has an extensive timeline of Jackson's charity work.
In 1984, Jackson equiped a 19-bed-unit at Mount Senai New York Medical Center. This center is part of the T.J. Martell-Foundation for leukemia and cancer research. Later in the year, he visited the Brotman Memorial Hospital, where he had been treated when he was burned very badly during the producing of a Pepsi commercial. He donated all the money he received from Pepsi, $1.5 million, to the Michael Jackson Burn Center for Children.
In 1986, he set up the "Michael Jackson United Negro College Fund Endowed Scholarship Fund". This $1.5 million fund is aimed towards students majoring in performance art and communications, with money given each year to students attending a UNCF member college or university.
He donated the proceeds from the sales of The Man In The Mirror to Camp Ronald McDonald for Good Times, a camp for children who suffer from cancer.
Jackson donated tickets to shows in is 1989 Bad Tour to underprivileged children. The proceeds from one of his shows in Los Angeles were donated to Childhelp USA, the biggest charity-organization against child-abuse. Childhelp of Southern California then established the "Michael Jackson International Institute for Research On Child Abuse".
In 1992, he established the Heal The World Foundation, whose work has included airlifting 6 tons of supplies to Sarajevo, instituting drug and alcohol abuse education and donating millions of dollars to less fortunate children.Read more:
http://www.looktothestars.org/celebrity/113-michael-jackson#ixzz0wcfLV1xD
Causes supported
Abuse
,
AIDS
,
Animals
,
At-Risk/Disadvantaged Youths
,
Cancer
,
Children
,
Education
,
Environment
,
Family/Parent Support
,
Health
,
Hunger
,
Mental Challenges
,
Philanthropy
,
Physical Challenges
Read more:
http://www.looktothestars.org/celebrity/113-michael-jackson#ixzz0wcfibebn
Charities & foundations supported (18)
Michael Jackson has supported the following charities:
AIDS Project Los Angeles
American Cancer Society
Big Brothers Big Sisters
Boys' and Girls' Clubs of America
Childhelp USA
Children's Defense Fund
Cure4Lupus
Elizabeth Taylor Aids Foundation
End Hunger Network
Great Ormond Street Hospital
Jane Goodall Institute
Juvenile Diabetes Research Foundation
Make-A-Wish Foundation
Prince's Trust
Ronald McDonald House Charities
Starlight Children's Foundation
TJ Martell Foundation
United Negro College Fund
Read more:
http://www.looktothestars.org/celebrity/113-michael-jackson#ixzz0wcfm9TgA
Above article source:
http://www.looktothestars.org/celebrity/113-michael-jackson